Spiral Jetty - Robert Smithson's art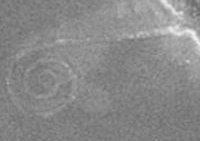 I discovered Robert Smithson indirectly on a trip from Wendover, Nevada to Salt Lake City, Utah. Another artist named Karl Momen created a, ...er, well, "tree" in the middle of the desert. Many argue it's value as art, but that's a different story. Anyway, the folks we were traveling with said, "have you seen the Spiral Jetty"? An artist named Robert Smithson created an earthen spiral in the Great Salt Lake in 1970. And, ever since, I've felt the compulsion to visit his work.

Being one to enjoy weekends and multitasking, I've wanted to use a weekend to go visit the Golden Spike museum (due to its proximity to the Spiral) and make the excursion to see the Spiral Jetty. After many moons, repeatedly confounded by conspiring events, I thought to search for it via Google Maps. The problem was that they didn't have any clear imagery. I'd heard Microsoft was created a competitive offering call Live Search and checked for an image there. They have a much clearer image. With the drag/drop functionality of the map apps, it's interesting to explore the surrounding area to acquire some context for it's placement in the surrounding landscape. Enjoy.
Visit Virtually / View Now
Additional Information
Related Keywords: Spiral Jetty, Robert Smithson, Great Salt Lake, Monumental Art