Spiral Jetty and Tree of Utah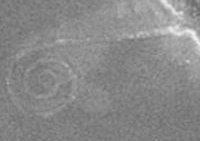 I discovered Robert Smithson while conversing on a drive while returning from Wendover, Nevada to Salt Lake City, Utah. Another artist named Karl Momen created a concrete sculpture called Tree of Utah which drivers can see along this stretch of Interstate 80. That work has received praise and criticism much like other artist's work, but that's a different story. Anyway, the folks we were traveling with asked if we'd seen the Spiral Jetty. Apparently another artist named Robert Smithson created an earthen spiral in the Great Salt Lake in 1970.

I spent a bit of time in Utah, I've even been to the Great Salt Lake numerous times. However, I've never been to that part of the lake, which is a sizable body of water and pretty far enough from my regular travels to have escaped my curiosity--until that discussion in the car.

Naturally I had to find the location on the mapping services and see what it looked like from space. I've watched over the years as the imagery seems to get updated and it appears that the lake water level has been declining enough that the spiral of the Jetty may be completely out of the water.

I have to say that the appearance and mathematics of spirals have been a long time subject of fascination for me. As an aside, I even tried mowing the grass in a house we lived in featuring two large and beautiful trees in the front and back yards using a spiral pattern starting at each of the trees--I thought it looked cool, but as with iron trees in the desert, beauty is in the eye of the beholder. I suspect the neighbors were thinking, what is wrong with this fellow?!
More about Spiral Jetty and Tree of Utah
Satellite Maps of Spiral Jetty